Come to Funday School "where every Sunday is a Funday"
*Children bring unique gifts of wonder, excitement and creativity that can make worship more meaningful for all.
*Children have important things to teach us about God. Children worship with each new discovery in their lives with reverence, adoration, respect, love awe and praise.
We invite you and your children to become a part of a community that laughs together, cries together, struggles together and worships together.
The following are some reasons why church matters to kids:
The church matters (deeply) to Jesus.
The church is his body and kids matter deeply to Jesus.
Jesus wants to run to our kids and embrace them as his own children through love and prayers, song and praise.
The church matters because your kids matter to Jesus, and through his church, Jesus blesses them.
If Jesus matters to us, then what matters to Jesus will matter to us.
FUNDAY SCHOOL LESSONS FOR SEPTEMBER
Seasons of creation will begin in September with the following lessons
Forest Sunday
Land Sunday
Wilderness Sunday
River Sunday
Where each Sunday will evoke a connection with the story of Genesis
*Please note that Sunday Service starts at 10 Am and Children are encouraged to stay with their parents/caretaker until the end of the first Hymnal when we leave for Sunday school. Sunday School is typically over at 11:30 PM
"Let the little children come to me for the kingdom of God belongs to such as these" Matthew 19:14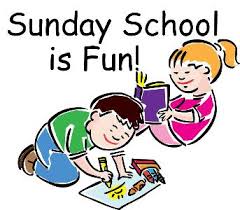 Feel free to contact the church office at 607-723-8981 with any questions.  We look forward to educating, enlightening and inspiring your children to experience God's Love.