Dr. Dov Treiman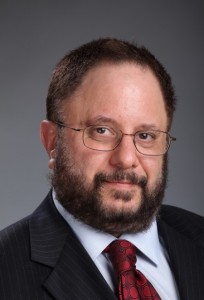 Dov is First Congregational Church's Assistant to the Pastors. He is also a supply preacher, most often at other U.C.C. churches in the Susquehanna Association. Dov's previous ministries have focused largely on Christian Education and liturgy.
Dov was involved in the private practice of law for fifteen years before devoting his principal time to the collecting, editing, writing, and publishing of scholarly research materials in landlord-tenant law. His writings include numerous articles in the New York Law Journal and the New York Times. He has written some eighty law books and some other works of nonfiction and fiction and is currently a partner in a Wall Street law firm where he manages the firm's landlord-tenant department from his desk at his home in Berkshire, New York where he lives with his husband, FCC member, Tom Treiman, and their rather large cat, Macavity.
Dov is a frequently sought lecturer on landlord-tenant subjects and has been retained by most of the providers of Continuing Legal Education in the New York City area. He has served as the principal consultant to the New York Times for landlord-tenant matters. Dov is the Chair of the Board of Advisors of the Apartment Law Insider.
Dov has been recognized for this work with featured biographies in Who's Who in American Business, Who's Who in American Law, and Who's Who in America. Dov earned his Bachelor's Degree from the State University of New York at Stony Brook (now Stony Brook University) and his Juris Doctor from St. John's University, School of Law. In addition to numerous short courses and trainings, he also studied in the Christian Leadership Program of NYSOM (The New York School of Ministry).
Dov also paints, sculpts, sews, and studies several foreign languages.